Thieves love scooters.
They're generally easy to steal (due to the fact they tend to be less well secured), there are loads of them in cities as they make for great transport. They're easy to ride, fit through small gaps (aiding a getaway), carry pillion passengers well and – with their ample underseat and top-box storage – can easily carry a scrote's tools. Then there's also the fact that due to the popularity of scooters, there's a huge second-hand market for parts in the UK and across Europe.
The issue with scooters and rising bike crime is that for most people, a scooter is their first foray into the wonderful world of two wheels. Just get a CBT, grab a 125cc scooter and you're off!
These new riders tend to be less aware of bike crime and how easy it is for thieves to steal your scooter or moped. Some CBT courses make riders aware of basic additional security measures and how to use them. This is great but we need to do more.
This post is designed to make it easy to show all scooter riders how they can better secure their bike and reduce the chances of it being stolen. We've picked out some suggested products too, from well-known brands and all with good Amazon ratings. So if you don't have time to do any research, we've (hopefully) made it easy for you.
Three essential layers of scooter security
This principle is straight forward:
Cover it, so it doesn't get seen.
Fit an alarmed disc lock, so it makes a noise if it's tampered with.
Use a quality lock and chain, to increase the time a thief needs to spend on trying to steal your scooter.
Layer 1. Use a disc lock
A disc-lock is a good portable bit of security that any scooter can carry. If you can, go for one with an alarm, as they are super-loud and will make a racket the moment your bike is meddled with. A quality disc lock isn't invincible but will take a fair few whacks with a hammer or some serious time with an angle grinder before it can be removed. Thieves do not like to make undue noise and if they shake your bike to see what it has on it and the alarm sounds, they'll think twice.
See that yellow cord? That's a disc-lock minder, to stop you riding off with your disc lock still fitted. Most disc locks will come with one of those but if yours doesn't you can buy one here.
Be careful when buying a disc lock for your scooter. Most motorcycle disc locks won't fit scooter discs (as scooter brake discs are smaller and their holes are smaller too). We've picked this alarmed disc lock which is designed to fit scooters. The Oxford XA7 will do the job nicely.
Layer 2. Use a quality chain, keep it off the ground if possible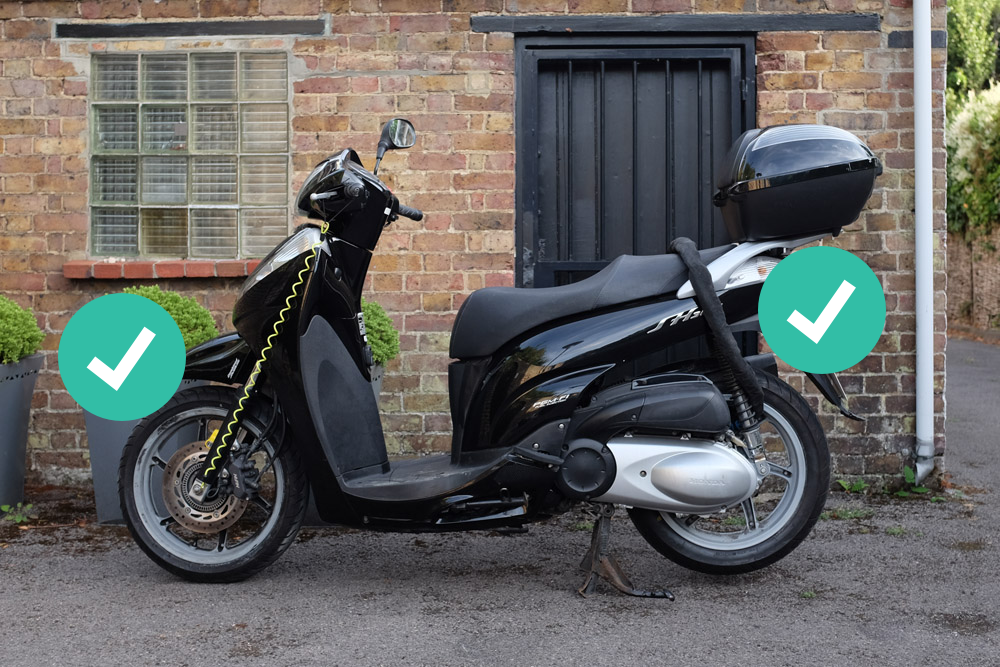 As a scooter rider, you should invest in a quality security chain as it can easily be stored under your seat or in your top box – no excuses.
If you loop your chain and lock through your rear wheel and around your seat – therefore keeping it off the ground – you reduce the amount of tools a thief can use. Sledgehammers are of no use in this situation, meaning a thief needs to carry hefty bolt croppers or an angle grinder. Angle grinders are a potent tool as they are powerful but they make a noise and shower sparks everywhere. It'll still take a thief a few minutes to cut through a chain with an angle grinder and for the thief doing the grinding, this will feel like a long time.
A quality hardened steel chain like this one is a great addition to any security arsenal as even though it can be cut, it will take time and add risk. Big chains are heavy and, we admit, they can be a pain to carry around but they play a vital role in enabling you to secure your bike to a fixed object.
If you have a scooter you can stash a quality chain under the seat. This is the top rated lock and chain on popular motorcycle retailer SportsbikeShop's website but it is quite pricey for most. If you have a lower budget, this Oxford chain and Monster lock is a great option -it won't be as hard to remove but it will add a vital extra layer of security.
Wherever you park your bike – if you can – lock it to something, so it's harder to lift into a van.
If a thief needs to carry heavy-duty tools like bolt croppers, hammers, and angle grinders, they know they'll instantly be done for 'going equipped' if they are pulled by the police. Although some won't care, others won't want to risk it. So by having this security you're reducing the number of scrotes out there who are prepared to take your bike on.
Layer 3. Cover it up.
A bike cover is one of the cheapest and most cost-effective forms of security. In cities, thieves are spoilt for choice when it comes to the volume of bikes out there. They'll have spotters who circle their local area, noting where targets are. If your bike is covered, they have to stop, take the cover off and check the bike out. They would rather not do this as it attracts attention to them, so a cover does a great job of keeping your bike off their list and under their radar.
The eagle-eyed among you will have noticed we've also added a second chain through the eyelets of the cover and the front wheel. Not vital but if you have the security, use it.
We've picked this Goose outdoor waterproof motorcycle cover in XL size which is the top-rated cover on Amazon and has some nice features including an elasticated hem, eyelets for feeding a chain through and a secure strap to stop it blowing off. If you don't fancy that one,  this Oxford cover, won a RiDE Best Rated award.
Three additional layers of scooter security
Fit a ground anchor, which prevents the scooter being lifted into a van.
Use a tracker, which alerts you if the bike is moved and will allow you to follow it.
Datatag your bike, to make it less attractive to thieves.
Lock it to something if you can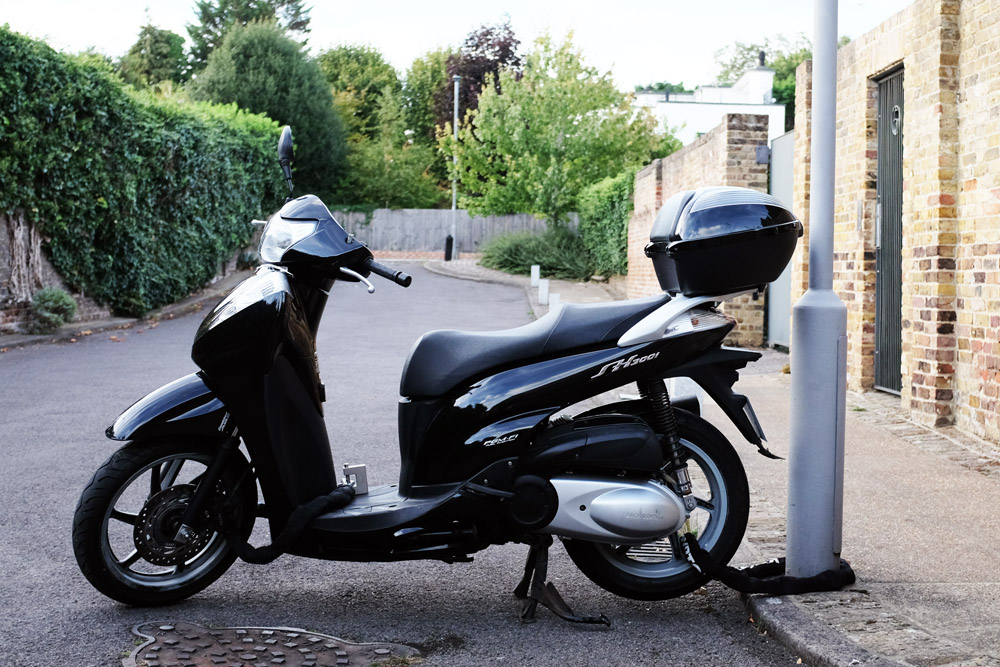 Unfortunately, a scooter can be lifted into a van if it's not secured to something. Since starting Bikers United, it's become clear to me that motorcycle thefts outside of city-centres tend to more commonly involve thieves lifting a bike directly into a van.
Using solid objects when out and about
We're not always spoilt for choice when it comes to leaving your bike in a secure area but if you can, use a chain to lock your scooter to a solid object like a lamp post. Some private car parks and some councils have parking bays with ground anchors, so check your local council's website.
In the example above, we're using two chains. One around the front wheel, off the ground, and one around the rear wheel – on the ground but around a solid object. It's not a guarantee your scooter won't get stolen but it stops the chancers who only want to pinch bikes that are on a steering lock and it hampers those who prefer to lift a bike into a van and deal with the security at a later date.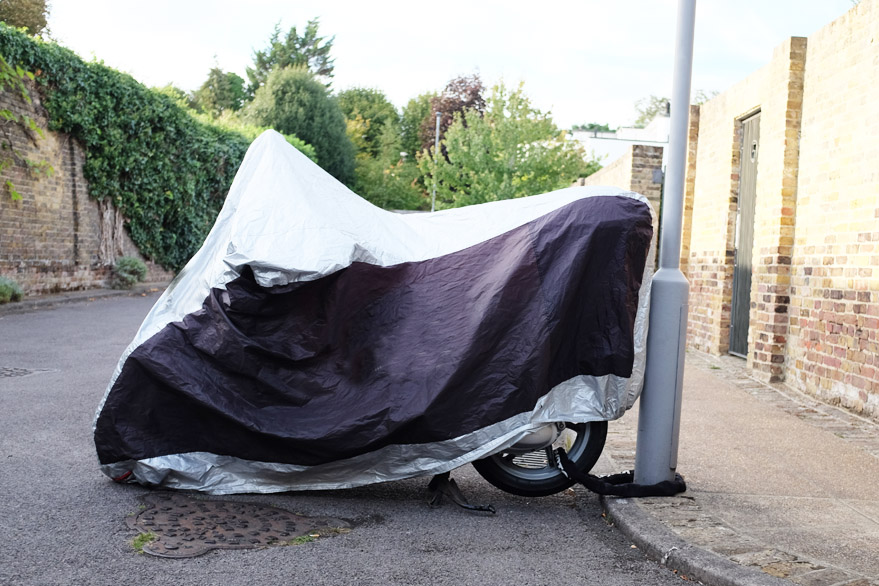 Again, I stress, no security is undefeatable but a thief has to put time and effort into getting this scooter. A lot of thieves are lazy and want a quick buck. Pinching this bike isn't going to be quick and the desired result is that most thieves will instantly pass it over. Sure, if it's a high-value and desirable scooter, they might still want to take it on.
Using solid objects at home
If you don't have access to a garage or shed, then don't fret. You can always fit your own ground anchor. These are solid metal objects that allow you to chain your scooter to them, to prevent them being lifted. They come in two varieties: you either bolt them to the ground or you cement them in.
We've picked this Mammoth ground anchor as a great bolt-down option. It's 'Thatcham Approved' and has two layers of metal that thieves would need to cut through. You can fit it into a wall, concrete or, if you're feeling cheeky, you could fix it to the road.
A concreted-in ground anchor isn't an option for everyone but it is a great security device. Mammoth have got their ground-anchor game sorted, so we've picked this Mammoth Concrete-In ground anchor which has a nifty rotating head, making it harder for thieves to apply pressure and get a good purchase.
Another good option is this Abus WBA100 ground anchor which uses hardened steel and has a slim profile – great for use in the garage as you're less likely to stub your toe on it when it's not in use!
Fit a tracker, notifying you of movement
Trackers cost from £20 for a basic one to £200+ and a monthly subscription. They can work well and some bikers who have recovered their machines swear by them.
A lot of thieves will leave a stolen motorbike in another location for 24 hours to see if it's still there. If it is, they assume it isn't being tracked and they'll quickly wheel it to their main location. A tracker is a long arm you can extend to grab the bike back.
There are lots of trackers on the market but the very cheap ones (under £20) are a waste of money – they just don't work reliably enough. You need to buy the tracker, buy and setup a PAYG SIM card and then wire the tracker into your bike. The cheap ones are a false economy.
You can get trackers from BikeTrac, Datatool TrakKING and MotoTrak, all of which require an annual subscription. If you Google for feedback and reviews, they appear to work.
However if you just want a reliable tracker that you can fit in minutes, this portable Monimoto tracker is getting great reviews. It can be setup in minutes and connects to your phone app. You store the tracker somewhere hidden on your bike and then you're good to go.
Security mark your bike, so it can be traced
There are lots of security marking products out there. One of the most popular is Datatag which has been going since 1992 and is well-known and used by the police.
Based around electronic transponders that provide an electronic 'finger print' to key components, the system also uses 'stealth' chemical etching and includes 100s of Datadots for minor components. Essentially your bike's details are marked on various parts of the bike and you then register your code online.
It disrupts the thieve's supply chain as most of the scumbags who steal the bikes don't actually process them. They sell them to a group who then strip them or clone them. That group are going to get annoyed with a thief if he supplied them with easily traceable bikes.
The risk is that the police can catch them with one bike that is linked to others. Most would rather not get involved and a simple Datatag sticker could be enough of a warning to make the scrotes move on.
Beefing up your garage security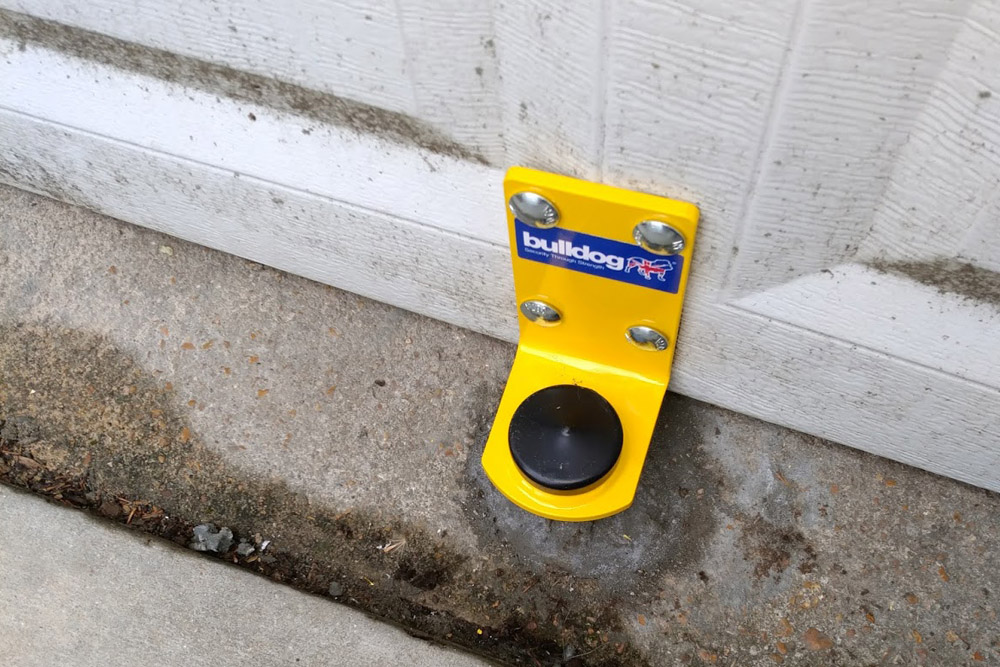 Garages can be a target. If you just have an up-and-over garage door with a cheap lock, thieves can pick these, easily. In rare cases, some will also peel up the garage door and tear it off to steal a bike.
Fit a garage defender. To make it harder for thieves to get access to your garage. This Bulldog garage defender is the top-rated one on Amazon. Followed closely by the well-known and 'Sold Secure' Garage Defender Master.
Use a motion-sensing floodlight. If this lights up a thief, they have not no idea whether anyone's watching or not. They don't like 'em, simple as that.
Use a wireless alarm. Although cheap, at just £10, this basic PIR sensor garage or shed alarm will sound when it is activated and it senses movement.
Get the shotgun out. Not literally, obviously. These Bisley Alarm Mines are all-the-rage on social media. You fit them anywhere in your garage with a trip wire and you load a shotgun blank (yes, really!) into it. If the wire is tripped, it fires the blank. See a video here. Imagine that going off in your garage! The best bit is, they're totally legal. You just have to remember, not to trip it yourself..
By following just one of the security steps in this guide, you'll be decreasing the chances of ever having to report your scooter as stolen. Police ask people to call 999 if your scooter is being stolen or 101 if you discover it has already gone.